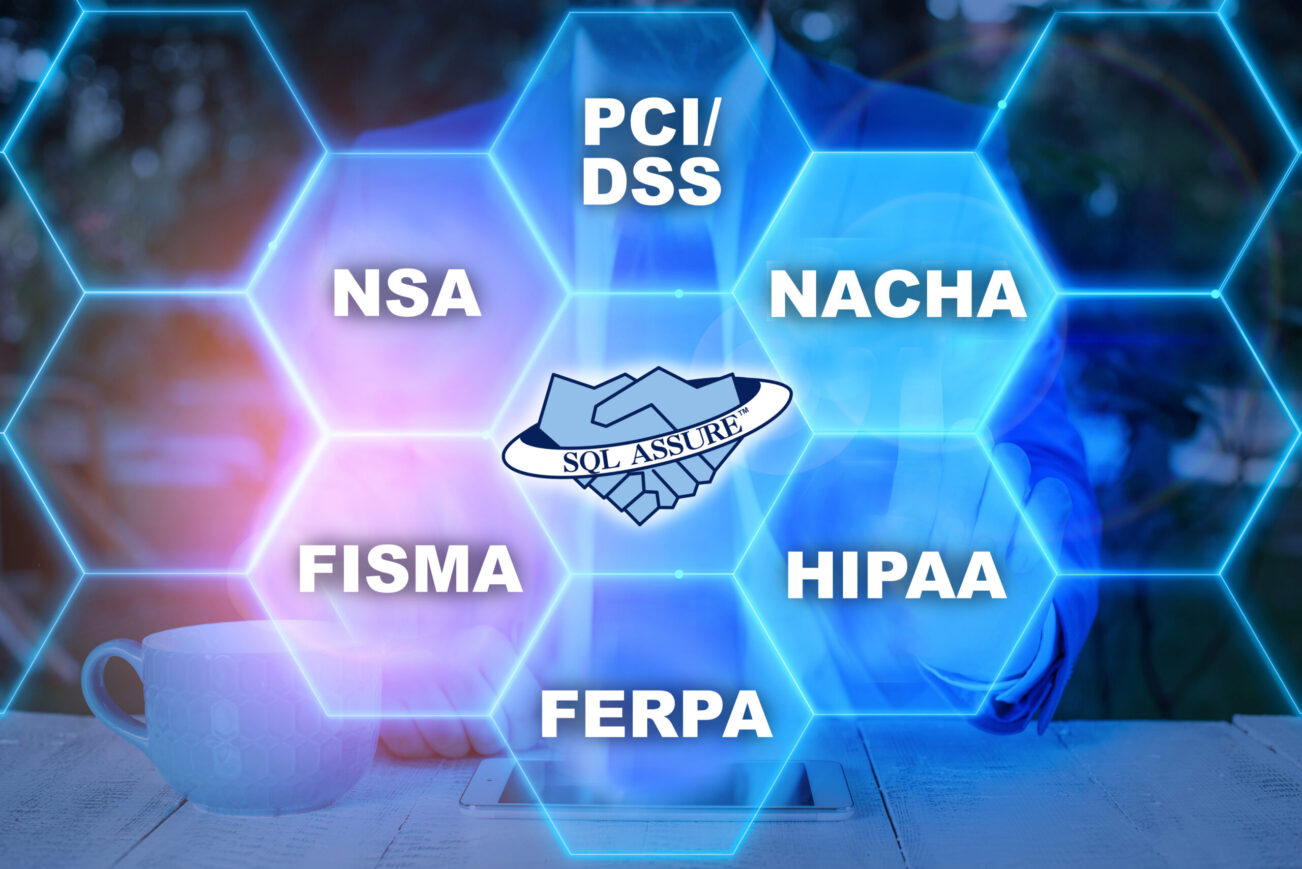 27 Feb

It Starts with the Data-Cybersecurity Regulatory Compliance

Posted at 19:59h

in

Compliance

,

Cybersecurity Maturity Model Certification

,

Electric Coops

,

FERPA

,

FIPS

,

Government

,

HIPAA

,

NACHA

,

NSA Data Security

,

NSA Security Standards

,

Optimization

,

PCI/DSS

,

Software

,

SQL Server/Database

,

Technology
It Starts with the Data-Cybersecurity Regulatory Compliance
Regulatory Compliance Auditing Monitoring & Reporting is a major pain point for most corporations. Especially those that interface at any level, or do business with local, state, or federal government. It all starts with the new Senior Leadership Team (SLT) asking their direct reports, "Are we Regulatory Compliant?" What is your answer? Most companies will hire one of the formal third-party assessors, "Big 4" Consulting Firms, and pay egregious fees for them to conduct an internal audit and tell you what shortcomings your company has and recommend how it should be fixed. As the adage says, "you can't fix what you do not see!" Once an internal audit is completed and all risks are eliminated or mitigated your company will need to maintain the health, monitoring, and optimization of your regulatory compliance, or risk hefty fines, or worse, risk company reputational damage. How is that accomplished? It all starts with the data!
If you Google the Cybersecurity Domain you will find that there are 8 domains, or as IS2 refers to in their CISSP curriculum, 8 "Common Bodies of Knowledge (CBK's)."
Security and Risk Management
Asset Security
Security Architecture and Engineering
Communications and Network Security
Identity and Access Management (IAM)
Security Assessment and Testing
Security Operations
Software Development Security
The interesting aspect of these 8 domains is that they are all built around putting a defensive perimeter around the company networks and physical locations. When digging into the Asset Security Domain there is only one aspect that addresses the data, Data Security Protocols. Put simply, your company's data consists of the plain facts and statistics collected during business operations. While the data itself may not be very informative, it is the (foundation) for all reporting and is "CRUCIAL" in business. Perhaps we should add a 9th Domain to the Cybersecurity Domain's, "Data Protection-Health, Monitoring, and Optimization." It all starts with the data! Once the perimeter and access defenses are in place, how do you accomplish this and then provide scheduled internal Health, Monitoring, Optimization audits, and reporting? How do you also accomplish internal Regulatory Compliance Auditing, Monitoring, and Reporting for PCI/DSS, NACHA, HIPAA, FERPA, FISMA, and NSA standards. Senior Leadership Teams must use a "Command & Control (C2)" mindset for their data enterprise and its regulatory compliance with "Data-Driven Decision Making (DDDM)" that utilizes both qualitative and quantitative analysis. The identification of this ubiquitous problem for most companies, regardless of industry, led to the design, development, and deployment of the SQL Assure™ Enterprise Solution.
With the introduction of the SQL Assure™ Enterprise Solution to the U.S. marketplace we have observed the needs of industry organizations that utilize SQL Server Deployments, but lack in-depth knowledge of deploying and maintaining the product to ensure the best resource utilization, application, data security, and lowest security risk.
The SQL Assure™ Enterprise Solution operates as a Command & Control (C2) Center for SQL Server/Database environments on a corporate network. It is an overall health, optimization, and performance monitor, in addition to the regulatory reporting and compliance solution that it provides. It performs over 600 proprietary tests and furnishes a report with a pass, fail, or warning of "out of configuration" database settings that will impact regulatory compliance for PCI/DSS, NACHA, HIPAA, FERPA, FISMA, and NSA standards. The SQL Assure™ Enterprise Solution also provides the source reporting for outside Auditors.
In addition to the functional benefits, the SQL Assure™ Enterprise Solution creates reduced operational overhead, improves ROI, and preserves company reputation.
---
Visit our website to take advantage of our FREE, two-hour trial of the SQL Assure™ Enterprise Solution. If you like what you see and realize you need this product, call 4 Horsemen Solutions™, LLC, at 1-800-429-5260.
---