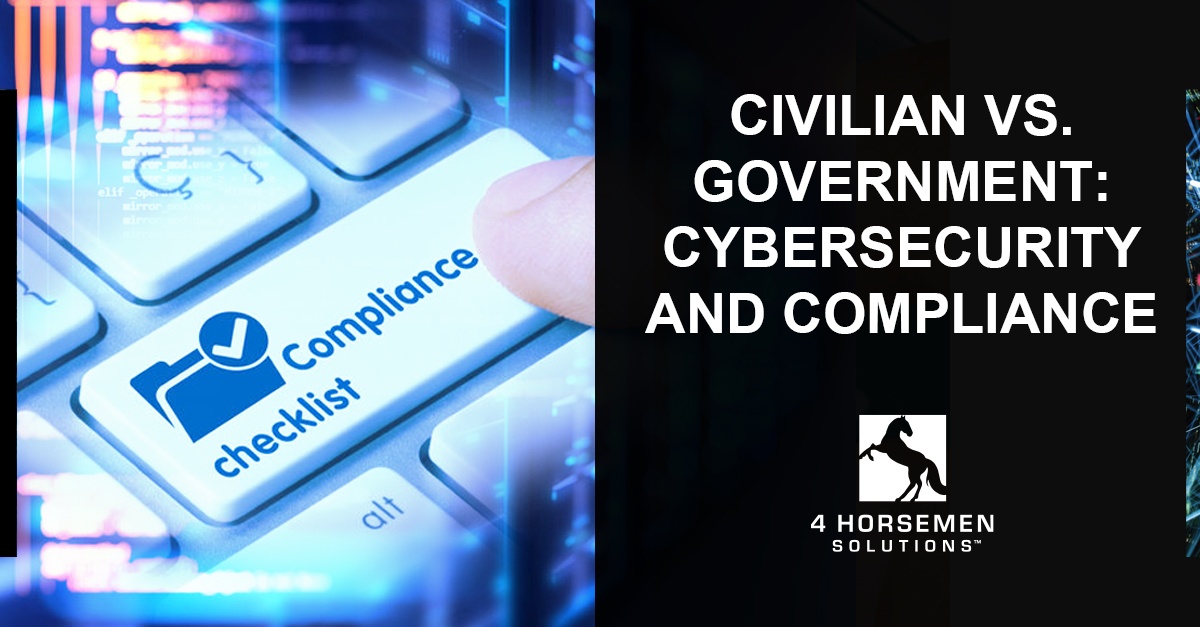 13 Dec

Civilian vs. Government: Cybersecurity and Compliance

Posted at 14:57h

in

Compliance

,

Cybersecurity Maturity Model Certification

,

FERPA

,

FIPS

,

Government

,

HIPAA

,

NACHA

,

NSA Data Security

,

Optimization

,

PCI/DSS

,

Software

,

SQL Server/Database

,

Technology
Civilian vs. Government: Cybersecurity and Compliance
How many people out there have seen a significant number of cybersecurity threats and issues, or outright loss of private organizational data in the last few years? These issues have affected all types and sizes of businesses, and there seems to be no end in sight! While the civilian sector and the government sector have different rules and regulations in place for organizations to meet in handling cyber threats, all those regulations are in fact trying to do the same thing: keep cyber threats as just that, a cyber threat, and keep those threats from becoming something more, like a loss of data or information that is supposed to remain private.
The civilian sector has separate regulatory bodies that continually compile and monitor specific regulations that are applicable to their specific industry. For example, we all know that HIPAA's regulatory body is responsible for compiling and monitoring specific rules and regulations connected to the privacy of information anywhere in or around the health and well-being arena. There are also regulatory bodies that do the same, or a similar thing for educational privacy (FERPA), payment card privacy (PCI/DSS), and many other similar areas that require privacy policies to be in place. The big takeaway here is that every industry has its own regulatory body, and each regulatory body does its own thing, which means that most companies have multiple regulatory bodies governing specific rules and regulations that they must answer to remain in compliance with each of those bodies.
The U.S. government does things a little differently. During the first part of 2020, the Department of Defense (DoD) announced a new framework of cybersecurity requirements that would need to be followed by the over 300,000 organizations that do business in some capacity with the U.S. government. This framework is referred to as the Cybersecurity Maturity Model Certification (CMMC) Program. In its initial stages, the program was deemed to be too confusing to everyone involved, as well as being too expensive to be a nonpartial way of doing business. Basically, to bring your organization into compliance you had to have deep pockets, but that unfairly priced smaller, mom and pop style businesses out of the government marketplace altogether. Since these regulations were confusing and unfair, the program itself was determined it needed a rewrite before it was even properly utilized in the government contracting realm. That rewrite is only partially done as of 2 December 2021, and the parts that have been through the rewrite differ substantially from the version that initially hit the marketplace.
What major understanding can we take away from the way both the civilian and government sectors handle cybersecurity and compliance? The civilian sector has a different regulatory body for each industry, which is confusing, and the government sector's own individual rules and regulations in these areas are just as confusing. We need a way to do away with some of this confusion, and we need it quickly so that data loss and data breaches can become a thing of the past. Cybersecurity and compliance are currently costing companies millions, tens of millions, and sometimes even hundreds of millions of dollars. Larger corporations may be able to brush those amounts off to the side as a non-issue, but often, those types of fines and financial losses would be more than enough to put most companies out of business for good.
What we need is a single product with the ability to bring those separate compliance bodies under one compliance audit blanket on the civilian side. On the government side, we need a way to make compliance regulations easier to understand and issues easier to correct.
My partners and I have just such a product! At 4 Horsemen Solutions™, we have cracked the code – so to speak – to get these situations under control. On the civilian side, our product can provide compliance audits and reporting in 6 different areas, handling multiple industries all at the same time. The regulatory compliance areas that we already service include HIPAA, PCI/DSS, FERPA, FISMA, NSA (ULTRA), and NACHA, with more coming online in the future. Our product not only provides audits for those areas, but also the audit reporting that comes along with them as well. The big thing here is the fact that once the audit is complete, our product will not only tell you if you are in or out of compliance but will also tell you how you are out of compliance, thus making it easier to rectify that issue and get yourself into compliance. Our product will have the same thing in place for the CMMC government program as well, alleviating compliance and cybersecurity issues in the same manner, but we need to wait for the DoD to finish writing the policy's rules and regulations before we can make that happen. Once again, waiting for the government to catch up!
Our initial product offering is called SQL Assure™ Enterprise Solution, and the compliance and cybersecurity issues that this product handles are just a portion of the product's capabilities. There is also a large built-in component that allows the product to be a command-and-control center for SQL Server/Database health, monitoring, and optimization, which allows anyone using SQL Servers/Databases in any capacity within their organization to streamline the system management processes and save themselves time and money along the way.
If you or your organization is ready to look under the hood of this new product and all of its endless possibilities, then take advantage of our new FREE, two-hour trial to see what SQL Assure™ can do for you. If you like what you see and realize you need this product and what it can offer, you can call 4 Horsemen Solutions™, LLC, at 1-800-429-5260, or visit our website https://4horsemensolutions.com/.
---
Acronyms and abbreviations that were used:
DoD – Department of Defense
CMMC – Cybersecurity Maturity Model Certification
HIPAA – Health Insurance Portability and Accountability Act
NACHA – National Automated Clearinghouse Association
FERPA – Family Educational Rights and Privacy Act
FISMA – Federal Information Security Modernization Act of 2014
PCI/DSS – Payment Card Industry Data Security Standard
NSA (ULTRA) – National Security Agency